Personal Trust Services
After working hard to provide financial security for yourself and your family, you deserve peace of mind that comes from knowing your plans will be carried out as you wish. Our Personal Trust Services encompass financial and estate planning strategies that are designed to safeguard your assets, vision, and legacy for generations to come.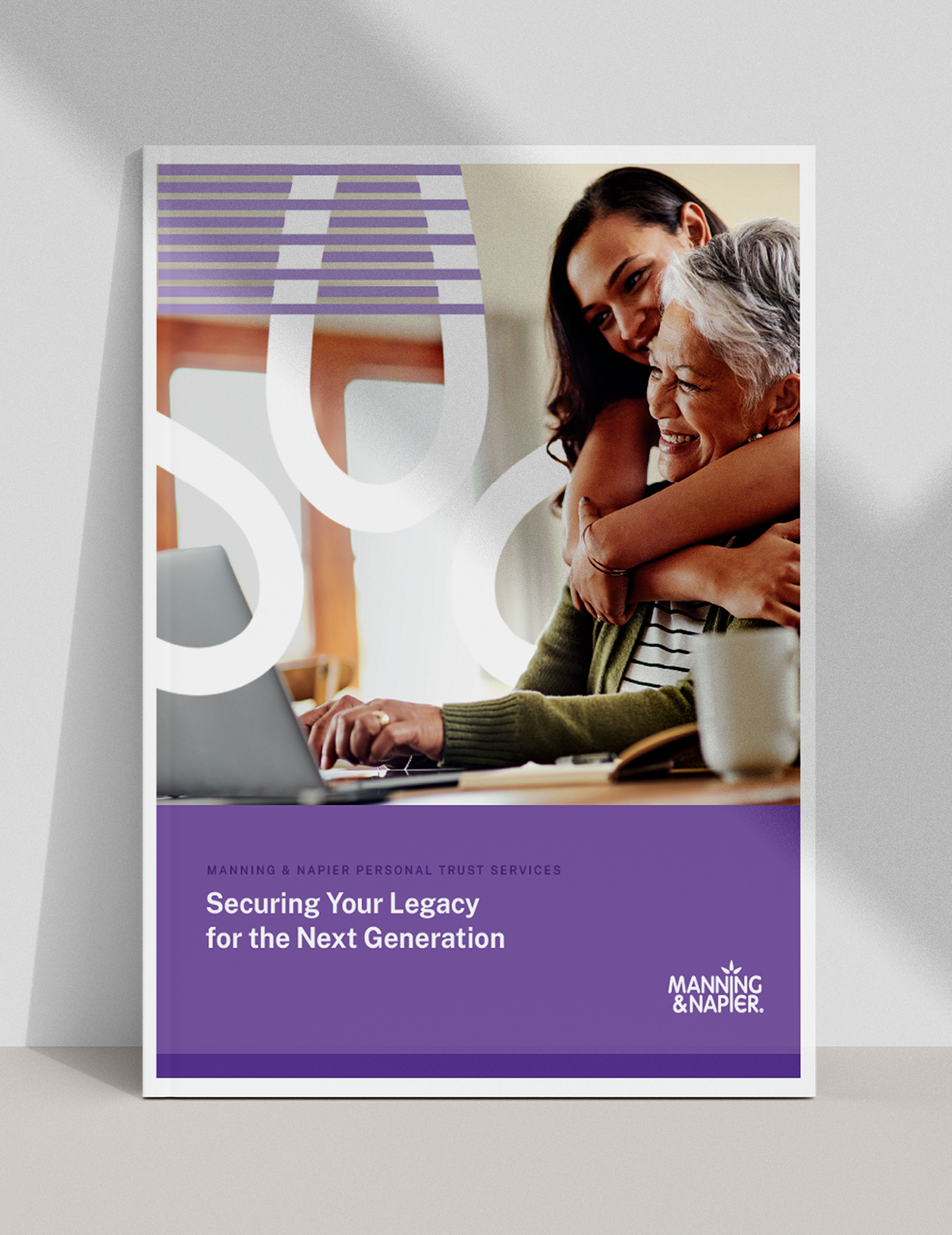 An experienced team behind you
For over 25 years, our knowledgeable team of lawyers, Certified Trust and Financial Advisors, and fiduciary consultants have delivered personal trust administration and advice to secure legacies allowing individuals to focus on what's truly important to them.
The responsibility of a trustee is often overwhelming to individual family members. Between administrative duties, such as ongoing reporting and filing of income tax returns, and managing family relationships among the beneficiaries, it's a demanding role. These added stresses are often not worth it, and therefore we've been able to assist families by shouldering this burden for families and stepping in as corporate trustee.
Do you have children and want to ensure their inheritance is protected from divorce, creditors, or excess spending? One of my clients had three married children and was concerned about these issues. Together, we came to the solution of a family trust, which ensures that the terms of her estate plan are carried out exactly as she intended.

We partner with you through all of life's stages
While you're building your wealth
During this phase of life you're building your wealth and planning for the future. Ideally, you're working to define your goals to create a financial plan that grows your assets and accounts for your risks. We can help as your financial partner, working with you, your loved ones, and other advisors to develop and make sure you have a sound financial plan.

When you need some extra help
If you (or your spouse) become incapacitated, there will still be the need to manage your wealth, pay bills, maintain care, or make arrangements. It's a lot to handle alone, especially during an emotional, stressful time. We can help in many ways by acting as agent for you or your spouse, acting as trustee or co-trustee, or to help manage your finances and investments – all according to your (documented) wishes.
Your legacy
Estates are subjected to legal processes upon death. That's why your estate needs to be safeguarded with a plan that details how your wishes and legacy are to be carried out. Since trusts are often created for surviving spouses, children, and charities, we can help handle estate administration and duties while acting as a trustee or executor. Our experience and knowledge help provide confident guidance and comfort during this challenging time.
Start planning your legacy in 30 minutes
Estate plans are an important piece of a comprehensive financial plan, and trusts are just one tool to consider. Our Personal Trust Services deliver holistic estate planning strategies created and managed by our estate and legal experts to make this complicated process simple for you.
Take the next step by scheduling a 30-minute conversation with a member of our team. Together we will:
Review your situation and your goals
Discuss how an estate plan can elevate your financial plan
Decide whether a trust makes sense for you
Plan your next steps to align your entire team of professionals
Frequently asked questions: Trusts, Wills, and Estates
What is a will?
A will is a legal document that documents your wishes regarding the care of your children, as well as the distribution of your assets after your death.
What is a trust?
A trust is a fiduciary arrangement that allows a third party, a trustee, to hold and direct assets in a trust fund on behalf of a beneficiary.
Why is estate planning important?
Estate planning helps you plan out who and how your estate and assets will be managed after death. Additionally, creating a formalized plan may help reduce taxes and expenses of your estate by simplifying and speeding up the transition of assets.
What is average cost to create a will?
$1,000-$3,000, depending on complexity
What is average cost to establish a trust?
$1,500-$6,000, depending on complexity
Should I create a will or a trust?
While both wills and trusts are estate planning vehicles to assist in handling your affairs, there are key differences to understand before deciding if one, or both, works best for your situation. A will does not go into effect until after you die, whereas a living trust is active once it is created and funded.
This means that a trust can provide protection and direct your assets if you become mentally incapacitated, something a will is unable to do.
A will is the most basic legal document all individuals should have, and does not avoid probate. If you have more needs such as privacy, complex family situations, or tax burdens, a trust may be a better option for you.
Can I create a will by myself?
Many online will makers offer tools for generating legal forms and documents that can introduce you to estate planning options. However, we recommend consulting legal counsel and other appropriate experts, as needed, to consider your personal estate planning needs to have a successful plan in place.
What kind of trust do I need?
That depends – on your goals, wishes, and personal situation. There is no one‑size‑fits‑all solution or strategy, but we can help you determine what makes sense for you. Some common trusts include:
Revocable Living Trusts
These are created while the grantor is still alive and can be altered during their lifetime, can avoid probate after death
Irrevocable Trusts
Created to support spouses and beneficiaries after death in a tax-efficient manner
Grantor Trusts
Designed to maximize gifts to beneficiaries by having the grantor pay income taxes for the trust after making the gift
Charitable Trusts
Set up to benefit you, your beneficiaries, and a qualified charity by providing income and tax benefits
Minor Children Trusts
Holds assets until a minor reaches the age of majority
Who we are
Our team has been helping clients reach lifelong goals for 50 years. We provide comprehensive wealth management solutions that fully integrate investments, advisory, and financial planning for people and organizations just like you.
Get to know us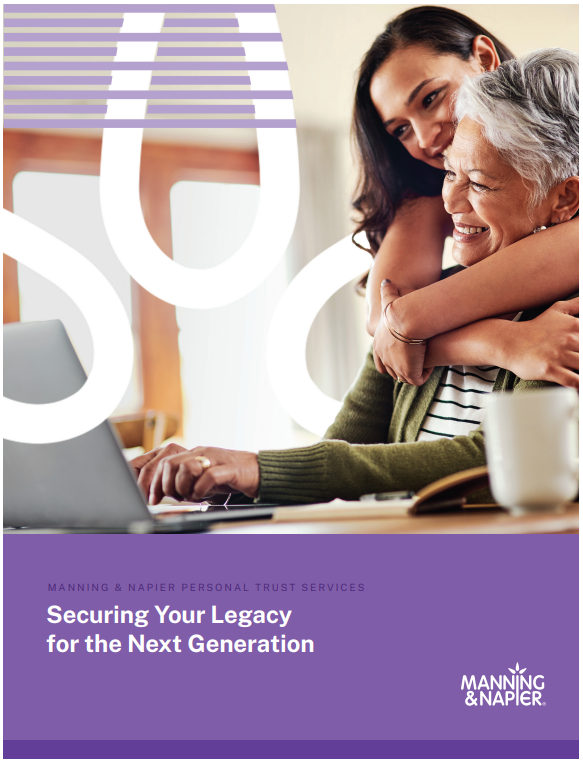 Learn more about our Personal Trust Services
Preserve your legacy today by creating a trust with a team that understands you. Download our brochure to learn more about how we can help.
Manning & Napier Personal Trust Services provided by Exeter Trust Company (ETC), a New Hampshire charted trust company and affiliate of Manning & Napier Advisors, LLC. Fiduciary trust and custody services are available through Exeter Trust Company.
Advisory services provided by Manning & Napier. Manning & Napier Investor Services, Inc., an affiliate of Manning & Napier and ETC is a member of FINRA.
The information in this brochure is not intended as legal or tax advice. Consult with an attorney or a tax or financial advisor regarding your specific legal, tax, estate planning, or financial situation.